Course details
【Casual Winter Party】 120 minutes Drinking and drinking 3500 yen ~ 12 kinds of wine Drinking and enjoying scallops and chicken saute ~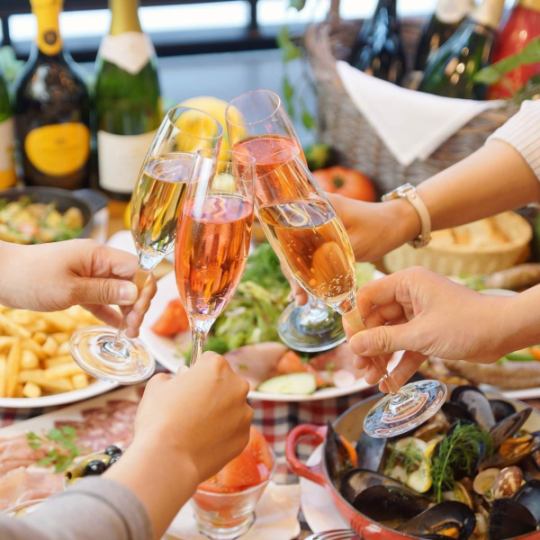 By using a coupon3500 yen
All-you-can-drink available

~ All-you-can-drink 2 hours (LO 30 minutes ago) / Seats are 2 hours ~
Reservation deadline

Until 18 o'clock on the day of visit to the store
Available days for reservation

Monday - Sunday - Public holidays - Holidays
2 people ~! Plan with 6 appetizers, healthy salad, 2 hot and hot dishes, main dish, dessert.It is the best plan to enjoy with ease.
Course menu
【Assorted 6 types of appetizers】
~ Assorted 3 types of vegetable amusement ~
Olive marinade, homemade pickles, mushroom marinade
~ Typical Amusu 3 sorts Assorted ~
Raw ham, salami, pretzel
【salad】
~ Seasonal winter vegetables and mandarin orange appliances Colored salad Homemade French dressing ~
Healthy salad with plenty of winter vegetables and seasonal oranges
[2 items of hot dish]
~ Belgian French Fries
Party classic French fries are made from Belgian hokuhoku potatoes.
~ Scallops and Seasonal Vegetable Oven Baked Amelien Sauce -
The sauce that crushed taste of condensed rice is condensed finish scalloped richly.
【Main dish】
~ Chicken saute and sausage champignon cream sauce ~
We finished seasonal mushrooms into a fragrant sauce and combined it with juicy chicken.
【dessert】
Today's dessert
All-you-can-drink menu
· 【12 sorts of carefully selected sommeliers】
· Wine benefits, including 12 kinds of wine in the world including sparkling wine are all you can drink.
·【beer】
· Asahi Dry Premium
· 【7 kinds of wine cocktails】
· Sangria (white or red) / Splitzer / kitty / keel / mimosa / white mimosa / operator
·【Cocktail】
· High Ball / Ginger High Ball / Elder Flower Soda / Gin Tonic / Jin Back / Gin Ricky / Vodka Tonic / Moscow Mule / Screwdriver / Ramback / Rum Coke / Solkburno
·【Cocktail】
· Tequila bag / Tequila coke / Tequila sunrise / China blue / Fazy group / Lychee grapefruit litchi orange / cassis soda / cassis grape roots / cassis orange / campari soda / spumoni
· [Shochu]
· We will prepare with your favorite drinking method.
·【Soft drink】
· Homemade lemon squash / homemade lemonade / orange juice / grapefruit juice / oolong tea / gingerjael
· 【Coffee, tea】
· Ice coffee / hot coffee / ice tea / black tea
Coupons that can be used with this course
2019/01/07 update